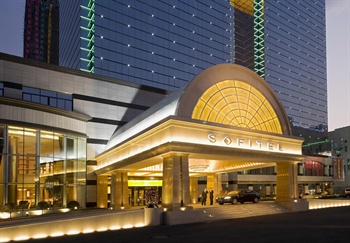 One of the few five-star Western hotels in Harbin, the Sofitel Harbin (Ha'erbin Suofeite Dajiudian) sits in the center of the city's business district.
Views from the guestrooms of this Harbin hotel take in the city and some look out over the nearby golf course. Amenities in the Sofitel's guestrooms include satellite flatscreen TVs with USB ports for music and movies, complimentary broadband Internet access, in-room safety deposit boxes and a variety of electrical outlets to accommodate 110, 120, 220 and 240 volt plugs.
Dining in the Sofitel offers guests a choice between Shanghai, Japanese and international cuisines in one of the hotel's three restaurants, each of which also offers private dining rooms for those looking for a more intimate setting.
After exploring Harbin, guests can unwind in the spa, work up a sweat in the fitness center or take a dip in the heated indoor swimming pool.